Charles Darwin University has partnered with SPEE3D to form the Advanced Manufacturing Alliance, a joint initiative to utilise a world-first 3D metal printing technology.
Through collaboration, the Alliance will aim to engage with industry partners, trades and academics to:
develop real-world applications
create industry procedures and standards
drive material development.
Introducing SPEE3D's Technology
FAST – up to 1000 times faster than traditional metal 3D printing
FLEXIBLE – With on-demand part numbers, you can produce a run of 1 or 100 parts with ease
LOW COST – LightSPEE3D achieves a similar cost to casting and uses common materials (copper and aluminium)
STRONG – LightSPEE3D unlocks Cold Spray metal manufacturing technology to produce high density (>99% dense) complex parts with low thermal stress
This combination can shorten manufacturing lead times, reduce cost and enable rapid product design iterations.
SPEE3D has carved out its niche in the manufacturing world – it doesn't fit with either 3D printing or the current casting technologies.
It combines the advantages of 3 current manufacturing technologies – COLD SPRAY, 3D PRINTING AND CASTING.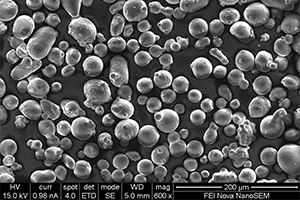 Cold Spray
core metal producing technology
strong material (>99% density)
metal does not have to be melted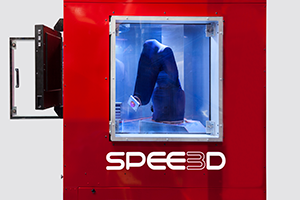 3D Printing
streamlined user interface
simplified production sequence
flexibility of quantities produced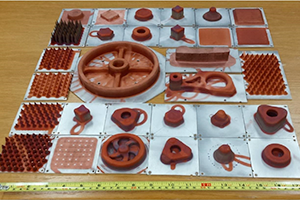 Casting
low cost production
speed of production
type of part produced
Possibilities from the Advanced Manufacturing Alliance
New alloys and composites
With the proper people, problem statements and ideas we have the potential to change prototyping, mass production, and to revolutionise supply chains.
Ideas for applications?    Ideas for collaboration?    Ideas for research?
Wanting more information?
Contact us

Industry collaboration
SPEE3D's technology can help you to develop products from concept through to mass production for application in industries such as oil and gas, mining, remote manufacturing and automotive.

Partner with trades
The Advanced Manufacturing Alliance has a solid partnership with CDU Vocational Education and Training (VET) which provides a strong link to trades. Projects with VET include:
development of a basic training program outline to operate the new technology,
produce and validate manufacturing procedures and standards for the technology in partnership with higher education.

Academic research
We are looking to work with academic partners to conduct leading-edge research to unlock the full potential of this innovative technology.