Printing tomorrow's potential today
By Leanne Miles
On-the-spot design and manufacturing through new cutting-edge metal ­­3D Printing technology will soon enhance lines of logistics for the Australian Army.
The Australian Army has kicked off a 12-month pilot trial of the new technology in partnership with SPEE3D and Charles Darwin University (CDU).
The $1.5 million venture recently announced by the Minister for Defence Industry, the Hon Melissa Price MP, will see 20 Darwin-based soldiers trained in advanced additive manufacturing.
The soldiers, who are mostly drawn from 1st Combat Service Support Battalion (1 CSSB), will be taught how to design and print parts using the WarpSPEE3D 3D metal printer.
Sighted @ RAPID 2018: Cold Spray Technologies Can Print Large Metal Parts in Minutes, Perform 'Impossible' Repairs
Lee Goldberg  | April 26, 2018
One of the well-known realities of additive manufacturing is that it is painfully slow, with print times ranging from hours to days. It's no wonder then, why a small group of manufacturers caused a stir at the RAPID 2018 conference when they demonstrated the capabilities of Cold Spray Deposition, a relatively new deposition technology that uses a hypersonic airstream to apply many types of metal powders at speeds that seem to be on the verge of science fiction.

New Additive Manufacturing Technique Uses Mach 3 Speeds to Build Parts
Leslie Langnau | May 1, 2018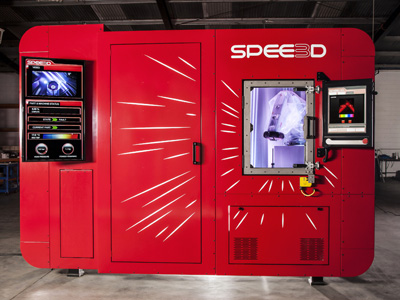 An innovative and new additive manufacturing approach was shown at the recent RAPID + TCT show in Ft. Worth, TX. This new additive manufacturing technology uses supersonic deposition. Material is shot through a jet engine nozzle at speeds to Mach 3, and deposited in geometric patterns layer by layer. SPEE3D introduced this technology, referred to it as Supersonic 3D Deposition (SP3D). No heat is used to "melt" the metal powders. And parts can safely be handled immediately after the build